3 Drivers of CX Success in 2021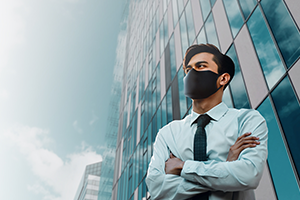 As the pandemic continues and businesses continue shifting focus to accommodate necessary changes, we've seen brand new drivers of customer experience (CX) success arise. These drivers will continue into the new year has contact centers strive to meet new customer demands – by upgrading technology while knowing how to deploy the new capabilities. The below three drivers of CX success will help to keep customer loyalty strong as we move into 2021.
1. Supporting a Distributed Workforce
A distributed workforce at scale will be viewed as the norm going into 2021. Supporting agents working from home while maintaining a high level of CX can prove to be a big challenge. As agents become acclimatized to remote working, many are showing a preference for remaining home-based once the pandemic passes.
To operationalize this model, IT will need to consider how best to support agents working from home. Connectivity and communications will no longer be centralized in the same way. Many home-based broadband plans will need to be upgraded and IT won't want agents using consumer-grade communications applications. Agent engagement is another concern and IT needs to think about countering the isolation that can come from working solo. This is where the use of video and team messaging platforms can really help keep agents connected and feeling part of team.
2. Meeting the New Criteria for Customer Experience
Contact center leaders must understand how the criteria for CX has changed with the pandemic. Markets will continue remaining competitive but, in a weak economy, spending will be curtailed, and consumers will buy based on their needs instead of their wants. The focus of customer service now needs to be more about their overall satisfaction and addressing current issues rather than getting customers to spend more or upsell to the next tier of service.
As such, the drivers of CX will have more to do with empathy than efficiency. Conventional contact center KPIs are still important but focusing solely on your operational efficiency will not move the needle much. This becomes even more evident with home-based agents, as supervisors have less control over their working conditions with limited visibility into real-time performance.
For example, with customers feeling more stress, legacy metrics like Average Handle Time (AHT) aren't going to drive CSAT scores. If anything, agents will be spending more time talking to customers, since more engagement is needed during these uncertain times. This is closer to what good CX is going to look like going in 2021, so technology decisions should include applications that make it easy for agents to engage with customers in real-time.
3. Leverage Data with a Holistic Approach to Customer Experience
The more data you have about your customer, the more opportunity you have to provide a great customer experience during every interaction. As every touchpoint of the customer journey becomes a digital touchpoint, the data profile becomes richer and provides more information that helps define CX.
Contact centers have slowly been modernizing to keep pace, which has become a major impetus for cloud migration. The urgency has become greater with COVID-19, as more buying has moved into the touchless world of e-commerce. This has provided even more data for contact centers to draw from as they learn how to deliver digital CX.
In this regard, contact centers are in a position to provide even better CX – and personalized interactions that digital natives highly value. But even with all this great data that is freely available, few are able to capitalize on it. A key reason is that data is often kept in silos across the organization, such as CRM, HR, OSS and Marketing. Another factor is how data is not captured in a consistent fashion – some is structured, some is unstructured, some is text, some is numerical, and some is speech, and so on.
This challenge isn't unique to the contact center, but these issues become amplified with a distributed pool of agents. Every customer interaction adds to your knowledge base and IT needs to ensure that all these interactions can be captured, and that will be difficult with legacy technology.
Aside from this pointing to the need for upgraded technology to leverage all this data, the bigger success driver is taking an organization-wide approach. Every silo has a distinct set of customer knowledge, but the contact center must draw from all of them to get a complete picture. A holistic view is needed for digital CX, and the more atomized your organization becomes, the more important it is to invest in the right technology.
Learn more about Upstream Works' omnichannel contact center solutions here.
Download the Upstream Works Insights Report on how the pandemic is impacting customers and contact centers, and how contact centers can keep up.