Upstream Works for Finesse (UWF) provides a flexible omnichannel solution that enables organizations to deliver a consistent and personalized customer experience across all channels.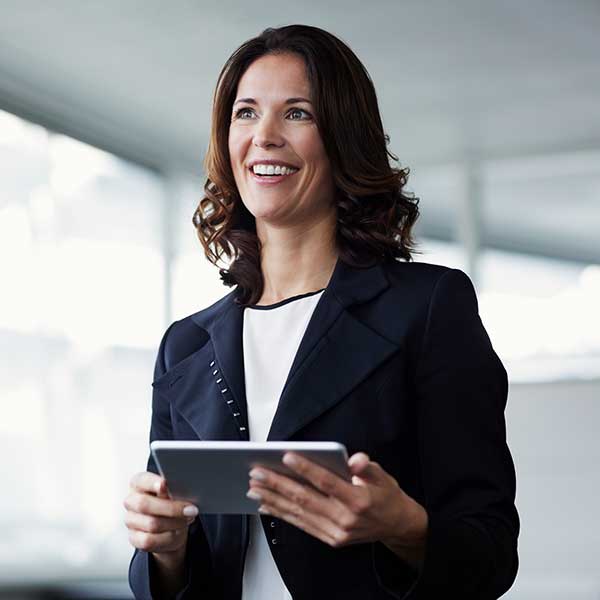 Transform CX & Evolve Your Cisco Contact Center
Upstream Works for Finesse (UWF) offers omnichannel contact center solutions that support digital transformation, CX innovation and operational efficiency – all while protecting your existing investments. Connect digital channels and leverage new and emerging technologies without creating CX silos. Improve the agent experience with seamless integrations to multiple business applications and CRM systems with minimal investment. Transform CX with hyper-personalized and effortless engagements on any channel your customers choose.
Evolve your Cisco infrastructure with UWF migration flexibility for on-premise, private cloud and public cloud. The agent desktop experience stays consistent as you evolve, eliminating additional training requirements while maintaining business rules and integrations.
Digital CX with self-service and assisted service for convenient and personalized CX
Migration flexibility including on-premise, private cloud and public cloud
Agent Desktop consistency across Cisco Finesse and Cisco Webex Contact Center Solutions
Achieve Agent Success with Upstream Works for Finesse (UWF)
Upstream Works for Finesse (UWF) is a web-based omnichannel Agent Desktop that enhances Cisco Finesse. Improve digital engagements with productivity tools that increase contact center agent success.
Exceptional omnichannel customer experience means providing communications options on your customers' terms – with their choice of channel and convenient service. It also means providing call center agents with an omnichannel Agent Desktop that brings together customer information from across the enterprise. A true omnichannel contact center means being able to consistently deliver services to customers across all channels, no matter where their customer journey takes them.
UWF goes beyond the traditional call center with a flexible Agent Desktop that can be delivered on-premise or as a cloud contact center solution. Omnichannel-ready configurations are available.
Our scalable web-based architecture is flexible and easy to deploy. Leverage existing infrastructure with seamless integration capabilities for lower total cost of ownership and a rapid ROI.
UWF supports all Cisco Collaboration platforms, including UCCE, PCCE, UCCX, HCS and WxCCE.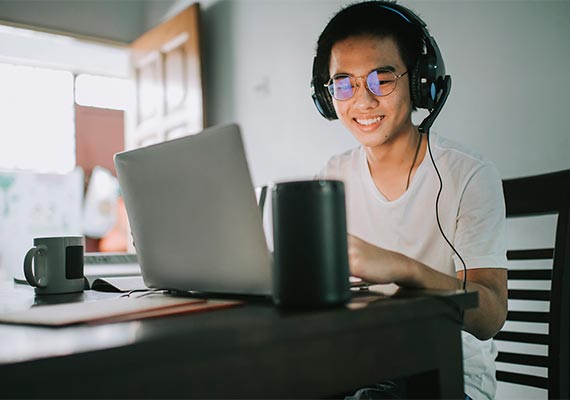 Upstream Works + Cisco SolutionsPlus

Enhance the Cisco contact center offering for a complete solution with Upstream Works products in the Cisco SolutionsPlus program. Cisco SolutionsPlus is a purchasing program for Cisco's customers, channel partners and sales teams for selected third-party products and applications.
The following Upstream Works products are now available on the Cisco SolutionsPlus Program:
Upstream Works for Finesse Productivity Pack
Upstream Works for Finesse Digital Base
Upstream Works for Finesse Omnichannel (UCCX)
Upstream Works for Finesse Application Server Base
For more information about the Cisco SolutionsPlus program, visit the Cisco partner website
Omnichannel Contact Center Desktop for Cisco Finesse
The Upstream Works for Finesse (UWF) desktop delivers on the omnichannel promise with web-based gadgets and tools in a single workspace for all channels and applications, all within Cisco Finesse.
Omnichannel Experience
UWF goes beyond email and chat to bring all channels into the contact center, including Voice, SMS, Messaging, Video Engage, Co-browse, Social, Bots, AnyTask, and more. Customers have a unified and continuous experience, no matter how they choose to contact you.
Feature-Rich Agent Desktop
The Agent Desktop empowers agents to deliver personalized, effortless and consistent customer engagements across every channel. Key features include:
Team Chat Rooms: Agents can quickly consult with team members in chat rooms to share knowledge and resolve issues.
Chat Conference: Consult with a peer or supervisor, or conference them into a customer chat for coaching and issue escalation.
Marquee Messaging and Stats: Supervisors can easily create and send real-time team communications and set thresholds and alerts.

Upstream Works Assist knowledge management:

Collect, guide, collaborate and manage knowledge for consistent omnichannel customer service.
Virtual Agent Portal: Dedicated area on the Agent Desktop that integrates with artificial intelligence (AI) applications to power guided agent experiences.
See the UWF Agent Desktop in action.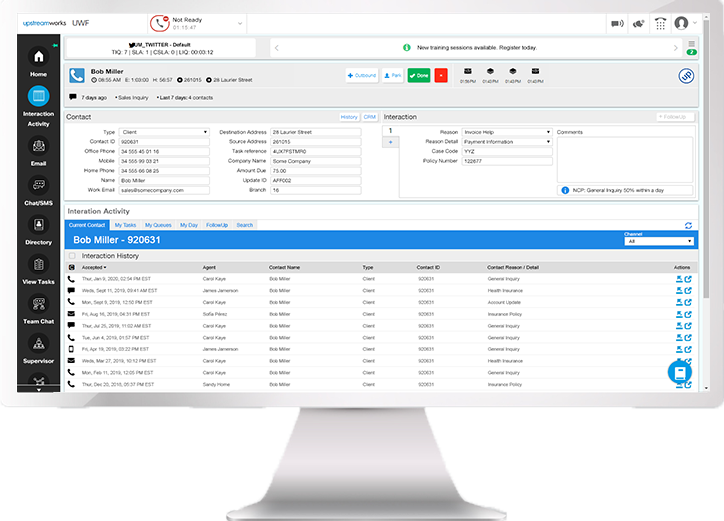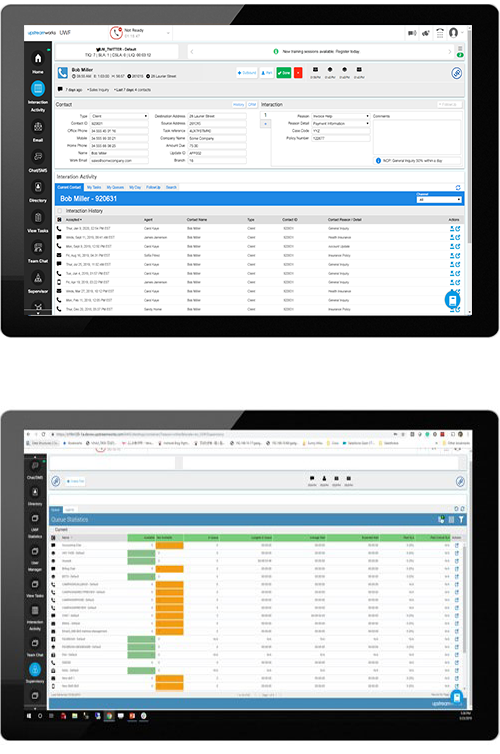 Consistent CX Across All Channels
Upstream Works for Finesse (UWF) powers limitless, continuous conversations that cross boundaries while raising the bar on real-time visibility. UWF blends all conversational data, Interaction History and rich reports for informed CX and optimized team performance. It features cross-channel engagements for consistent and effective CX across all channels.
Streamlined Engagements: Start an outbound customer interaction from a current task and Log Any Third-Party Media into Interaction History, improving engagements and workflows.
Email and Chat Enhancements: Email Review simplifies agent training, and Web Chat features allow for tailored and proactive CX through platforms like Adobe Experience Cloud.
Unified Digital Messaging: Single, continuous conversations across platforms like Facebook Messenger, WhatsApp, TwitterDM, WeChat, and more.
Social Care: Monitor and escalate social posts to the contact center, including Facebook, Twitter, LinkedIn, YouTube, and more.

Video Engage

and Co-Browse Customer Care: Guide customers to quick resolutions through personalized interactions.
Contact Center Software Integrations
Bring all your data and tools together in one platform with seamless integrations to channels, applications, CRM platforms and databases. Extend the value of Cisco Finesse, UWF and other investments, reduce training time and increase overall productivity.
Channel Integration: UWF provides consistent handling, management and reporting of contacts across any channel to easily support the entire omnichannel customer journey.
Desktop and Data Integration: Connect to and extend all integrations, including application screen pop, click-to-dial, data exchange, and more, to fully leverage the valuable data in your existing infrastructure.
Any Application and CRM Integration: Get full integration to existing and future verticals, legacy business applications, and CRM platforms like Salesforce® and Microsoft Dynamics®.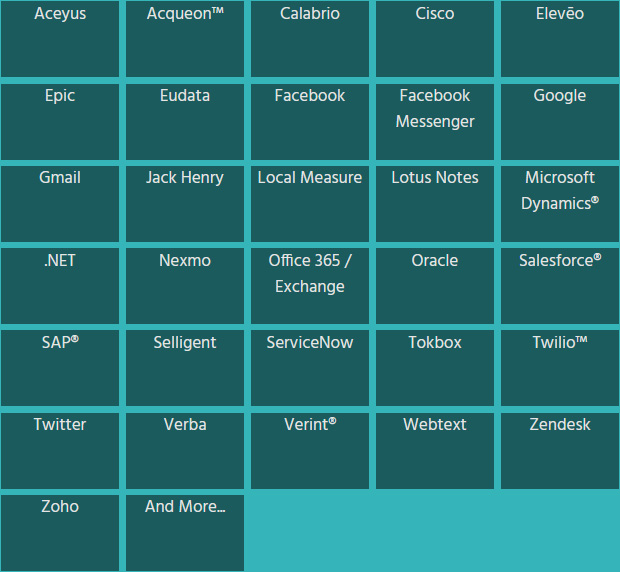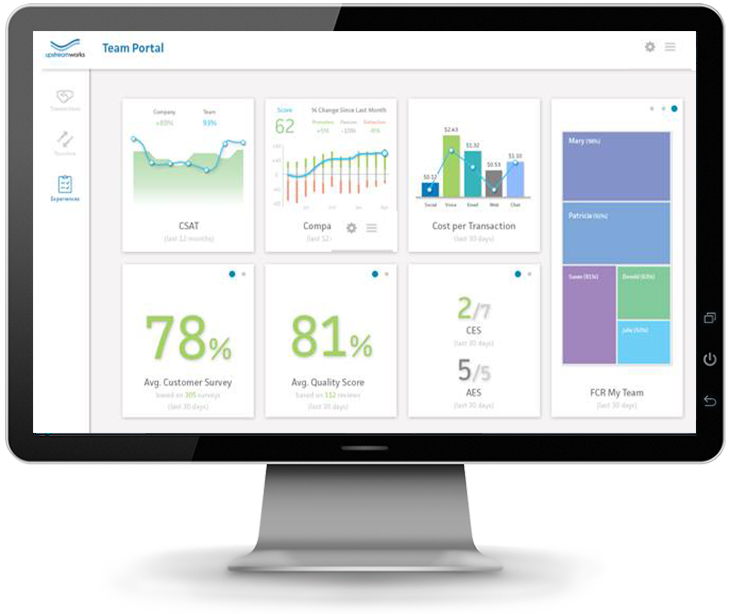 Customer Journey Analytics, Omnichannel Reporting & Management
UWF provides flexible reporting for performance optimization. Get convenient access to actionable information, how and when it's needed. UWF includes a rich set of standard historical reports and real-time statistics for insights into all the data collected.
Reports and Analytics

for all channels, including First Contact Resolution (FCR) and agent solve rates.
Key Performance Indicators spanning durations, counts, averages, percentages, and more.

Supervisor Desktop

for quick insight into queue statistics, team performance and task management.
Customer Management in the Contact Center & Back Office
Close the gap between contact center and back office operations with the Upstream Works Desktop (UWD). Give all digital workers across the enterprise a full view of all customer interactions across all channels and associated digital activities, including FollowUps and cases.
UWD empowers digital workers across departments with enhanced productivity capabilities to easily view and track all customer interactions. With UWD, Back Office advisors have the same productivity tools and capabilities that the Upstream Works for Finesse (UWF) omnichannel contact center agents have access to.
The visibility and rules-based allocation of digital work items are based on business priorities and help to streamline processes and remove silos between departments. UWD enables contact center agents and back office customer support advisors to meet CX expectations for continuous engagements with quick resolutions.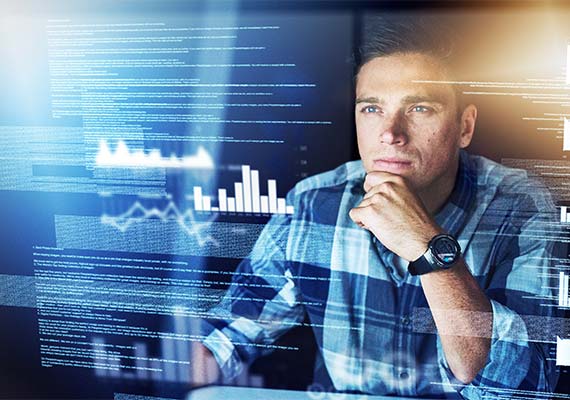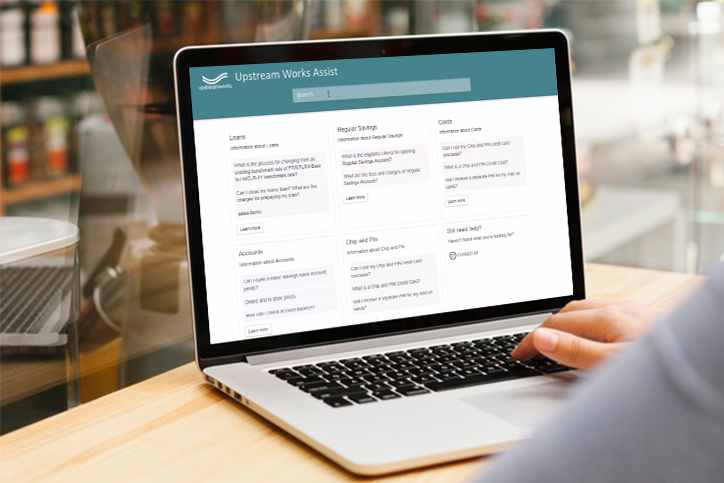 Upstream Works Assist Knowledge Base & Self-Service
Upstream Works Assist knowledge management is an omnichannel, centralized knowledge base.
It uses artificial intelligence (AI) to provide excellent content findability and contextual content suggestions. The fast search function uses National Language Processing (NLP) techniques that can be fine-tuned, including search learning capabilities.
Empower organizations to improve their omnichannel customer experience with Assist Customer Portal, a self-service online help center. Expert Assist is an internal contact center knowledge management system that allows agents to work more efficiently while streamlining interactions.
Upstream Works Assist is an advanced feature that is available for Upstream Works for Finesse (UWF) and Upstream Works Desktop (UWD).