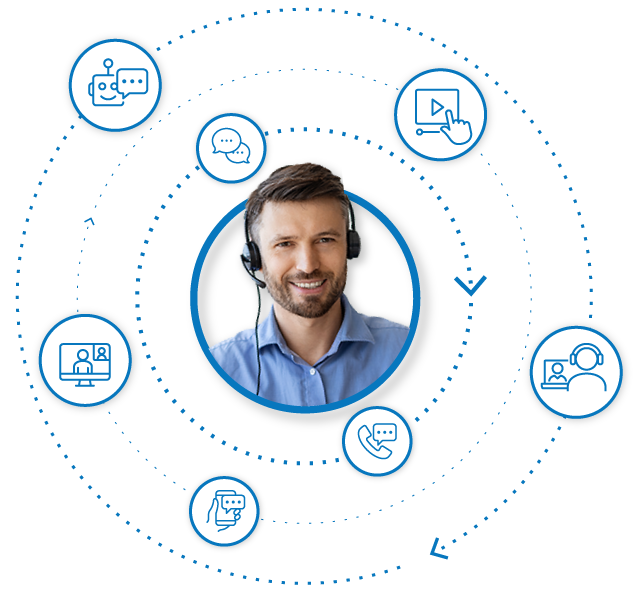 Effective Omnichannel Customer Experiences
Exceptional omnichannel customer experiences require communications options on your customers' terms – with their choice of channel. It also means providing call center agents with a single desktop tool that brings together customer information from across the enterprise. A true omnichannel contact center means being able to consistently deliver services to customers across all channels, no matter where their customer journey takes them.
Upstream Works provides omnichannel customer experience capabilities to Cisco Finesse and Amazon Connect as well as Digital Solutions for back office and digital workers across the enterprise.
Our scalable web-based architecture is flexible and easy to deploy. Leverage existing infrastructure with seamless integration capabilities for a lower total cost of ownership and a rapid ROI.
Contact Center Solutions on Any Platform
Upstream Works connects to the platform of your choice, allowing you to leverage your existing technology along with the Upstream Works solutions to extend functionality, value and ROI. Get the most out of your investments with a unified agent desktop, seamless integrations and management simplicity.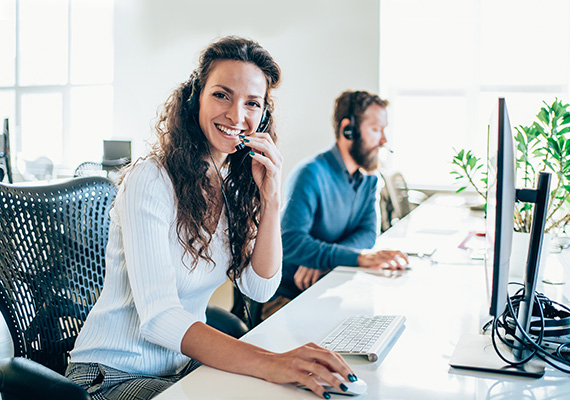 Omnichannel Contact Center Agent Desktop
Upstream Works delivers on the omnichannel promise with web-based gadgets and tools in a single workspace for all channels and applications.
True Omnichannel
Upstream Works goes beyond email and chat to bring all channels into the contact center, providing consistency from the Single Agent Desktop to reporting and analytics. Customers have a unified and continuous experience, no matter how they choose to contact you.
Feature-Rich
The Single Agent Desktop empowers agents to deliver personalized, responsive and consistent customer experiences across every channel. Key features include:
Team Chat Rooms – Quickly consult with team members in chat rooms to share knowledge and resolve issues.
Chat Conference – Consult with a peer or supervisor, or conference them into a customer chat for coaching and issue escalation.
Marquee Messaging and Stats – Supervisors can send team communications in real-time with thresholds and alerts.
Knowledge Management – Collect, search, organize and manage knowledge for consistent omnichannel customer service.
Virtual Agent Portal – Integrate with AI applications to power guided agent experiences.
Email Automation – Automate email tasks with an Email Bot Handler Service that completes tasks and supports agents in the background.
Smart Chat – Flexible Chatbot integrations enable enhanced self-service with support for rich content like quick-reply buttons and calendar pickers.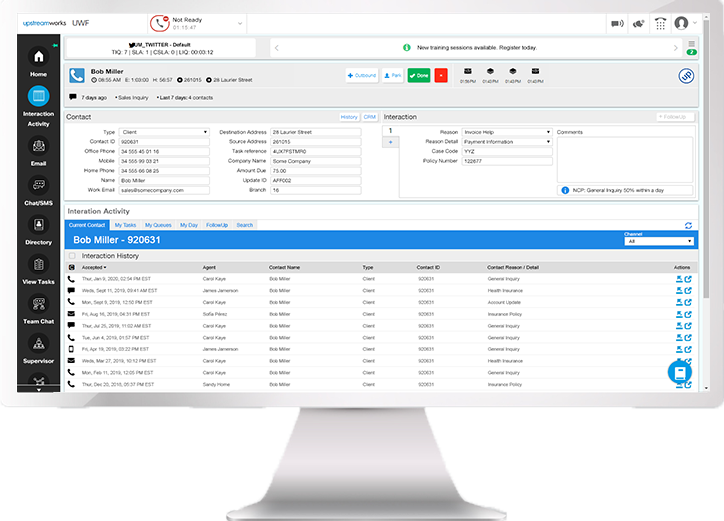 Contact Center Software Integration
Bring all your data and tools together in one platform with seamless integrations to channels, applications, CRM platforms and databases. Extend the value of investments, reduce training time and increase overall productivity.
Channel Integration – Upstream Works provides consistent handling, management and reporting of contacts across any channel to easily support the entire omnichannel customer journey.
Desktop and Data Integration – Connect to and extend all integrations, including application screen pop, click-to-dial, data exchange, and more, to fully leverage the valuable data in your existing infrastructure.
Integration to Any Application – Get full integration to existing and future verticals, legacy business applications, AI applications, and CRM platforms like Salesforce® and Microsoft Dynamics®.
Aceyus
Acqueon™
Amazon Lex
AWS
Calabrio
Cisco
Elevēo
Epic
Eudata
Facebook
Facebook Messenger
Google
Google Dialogflow
Gmail
IBM Watson
Jack Henry
Local Measure
Lotus Notes
Microsoft AI
Microsoft Dynamics®
.NET
Nexmo
Office 365 / Exchange
Oracle
Salesforce®
SAP®
Selligent
ServiceNow
Simplifai
Tokbox
Twilio™
Twitter
Uniphore
Verba
Verint®
Webtext
Zendesk
Zoho
And More...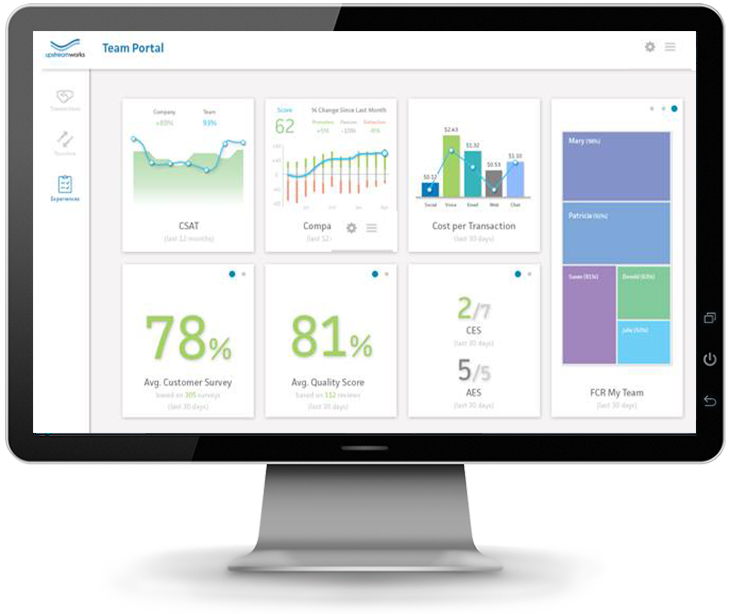 Customer Journey Analytics, Omnichannel Reporting & Management
Upstream Works provides flexible reporting for performance optimization. Get convenient access to actionable information, how and when it's needed. Our omnichannel contact center solutions include a rich set of standard historical reports and real-time statistics for insights into all the data collected.
Meaningful Metrics and Analytics for all channels, including First Contact Resolution (FCR) and agent solve rates
Standard Key Performance Indicators spanning durations, counts, averages, percentages, and more
Supervisor Tools and Interactive Gadgets for quick insight into queue statistics, team performance and task management capabilities
Upstream Works Assist Knowledge Management
Upstream Works Assist is an intuitive, AI-powered contact center knowledge management system that provides both agents and customers with accurate and informed answers. The collaborative and sharable information can be accessed on any channel across the enterprise, ensuring agents are able to easily find the right information to deliver accurate and quick service. Upstream Works Assist also provides a self-service option that allows customers to resolve issues with the help of an FAQ-style webpage. With Super Search and Natural Language Processing, Assist offers excellent content findability and contextual content suggestions.