4 Key Strategies for Effective Customer Experience Management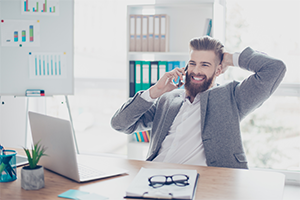 When we speak of Customer Experience (CX) and strategies for improving it, we need to clearly define the inherent business value. Establishing customer trust and loyalty is the single most important aspect of customer experience, according to the Dimension Data 2019 Global Customer Experience Benchmarking Report. The report also identifies speed of resolution, agent knowledge and ease of contact as key factors which foster that trust and loyalty.
We can translate these factors into four elements of a successful Customer Experience Management approach – one that is applicable to any industry – whether we're talking about guests, patrons, customers, patients, or members.  Organizations that embrace these basic tenets of customer experience earn customer loyalty and achieve long-term success.
Convenient, Flexible, and Connected CX Journeys
When someone reaches out to a brand, usually it's to resolve an issue or get information. With the popularity and growth of self-service, this means that the consumer has probably already exhausted the means available to them and is now looking for expert assistance for quick and informed resolution.
If an organization is to stand out and make an impact in today's busy and fickle customer landscape, it needs to make customer engagement as effortless as possible. As consumers, we can all identify with packed calendars, multiple devices, blurred lines between office and home, and conflicting priorities. In the event that we do need to interact with a business, having multiple options for engagement definitely helps. Whether it's apps, web self-service, chat, social media, bots, or more traditional phone and email channels.  An omnichannel customer experience that seamlessly connects the customer journey offers convenience – which today's customers appreciate and value.
Personalized and Predictive Care
As a consumer, it's frustrating – even painful – to be greeted by your favorite brand as if you're a complete stranger when you've been a customer for years. With a great customer experience, customer needs are anticipated, met and even exceeded – whether it's a restaurant or a contact center. When agents have contextual information readily available, it is easy for them to personalize the interaction, provide relevant and timely answers, and even predict and introduce offers that anticipate customer need and result in additional revenue. Central to this is an effective contact center software integration strategy that provides visibility to all customer journey information within the omnichannel agent desktop.
Consistency and Knowledge
In order for customers to put their trust in a brand, they need to feel confident that their needs will be met. That confidence stems from having productive and consistent interactions across different representatives, channels, business groups, and locations. As consumers, we've all learned from past experience to make note of the name of the person we were interacting with so that when we reach out again, we can reference our conversation. The onus seems to be on the customer to have to rehash their last experience, especially when they're told rather ironically "your call is being recorded for quality assurance purposes". There is a huge disconnect between the omnichannel customer experience goals of most organizations vs the experience they actually deliver. Having a centralized contact center knowledge base with consistent information available for all customer interactions is key to closing that gap.
Actionable Insights, Customer Journey Analytics, and Platform for Growth
Taking a step back from the frontlines of CX, let's look at customer experience management as it pertains to leveraging real-time and historical data to plan for growth and innovation. It's important to be able to deliver on today's customer experience goals, but the chosen platform also needs to be future-proof to easily incorporate new channels, technologies, and changing customer preferences. Contextual real-time interaction management, omnichannel business reports, customer journey analytics across the enterprise, and an integration strategy with APIs for all customer touchpoints are all integral to ensuring your solution delivers both immediate and long-term value and a measurable ROI.  
Contact us for a demo to learn more about how Upstream Works enables effective omnichannel customer experience management that delivers real business value.