Advancing the Conversational Experience Across All Channels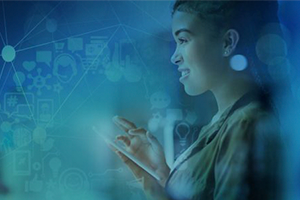 Messaging apps are an easy way for customers to interact with your brand while on the go – and their popularity is rapidly increasing. Throw chatbots into the mix and you've got customers who can help themselves with simple transactions.
There's no doubt that the name of the game today when we speak of omnichannel customer experience is convenience. Offer great experiences across all the channels of choice, leverage AI and Bots where they can make a difference, and vigilantly protect the sanctity of great customer experiences with visibility and control to alter outcomes on-the-fly. Do all this, and you have a real opportunity to be the envy of your competitors with fiercely loyal customers who love you.
That's why we're so excited to announce the latest release of Upstream Works for Finesse (UWF) – omnichannel contact center software that powers limitless, continuous CX conversations that cross boundaries while raising the bar on real-time visibility and control. Here are some of the highlights of UWF V4.0 and why we're so excited to share these new features and capabilities:
Conversations Across All Channels
This means consistent, effective, personalized engagements across all channels like Bots, Social, Video, Messaging, Co-browse, Web Chat, Email, Voice, SMS, AnyTask. Meet your customers where they are. If you make it easy for them, they're going to remember you for the customer experience you provide.
Proactive Engagements
Take a customer-centric approach with tailored, web chat engagements and intelligence through the contact center, and also through marketing platforms like Adobe Experience Cloud or Selligent. Reach out to website visitors and have those conversations routed and tracked by the contact center. This gives you a better understanding of the customer journey, and the ability to measure it.
Social Care
Monitor and escalate social posts and messages from Facebook, Twitter, LinkedIn, Instagram, YouTube, and more to the contact center. Take action on what is being said about your brand on social media. It will help you ensure brand integrity and demonstrate that your customer care strategy goes beyond answering phones in a call center.
Video and Co-Browse Customer Care
Show and guide customers to quick, effective, personalized resolution with Tokbox, Twilio, Vidyo, and more.
One Unified Digital Messaging Conversation
Provide agents with a single, virtual, continuous conversation across platforms like Facebook Messenger, WhatsApp, TwitterDM, WeChat, and more – all serviced from one interface and managed with one set of tools.
Unified Conversations with Smart Workflows and Added Value
Combine Unified Digital Messaging conversations with the Interceptable Messaging Pipeline to create intelligent and complex workflows including real-time special treatment and added value for a super-efficient, and smarter customer experience,
Real-time Visibility and Control with UWF Supervisor
Provide supervisors with full visibility and control, simplifying team management and deepening employee engagement. Supervisors and agents benefit from tailored views, flexible filters and drill-down to details for voice and digital channels. There are natural day-to-day fluctuations in the contact center that even the best planning can't predict 100% of the time. You need to have visibility into queues, skills, teams, and agent activities, and the tools to influence the outcomes.
Cisco Finesse 12.0 Support and More
UWF V4.0 supports and complements Cisco Finesse Agent Desktop 12.0, with a fresh look and feel to the interface that enhances the user experience. Additional features in UWF V4.0 include new reports, enhanced security, and more. Sometimes it's the little things that make the difference. A new, sleek interface improves the UWF user experience and is the icing on a cake that includes new reports and security enhancements – all things our partners and customers value and appreciate.
We started this post discussing the importance of convenience. Offering a level of convenience that keeps customers coming back can really be summed up as three basic things. First, make the experience effortless – for customers and for your teams. Second, be customer-centric – commit to exceptional human interactions by being smart with your use of technology. Third, look to the future and plan for it – but be sure you're living in the present day and prioritizing its realities.
Upstream Works for Finesse V4.0 addresses each of these aspects of customer experience management and much more. Be sure to see it in action by watching an  on-demand demo or booking your personalized product walkthrough.