Back to Basics: Contact Center Trending Technology 101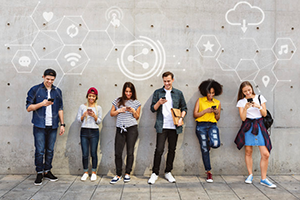 The world of customer experience management is expanding and growing in complexity at an alarming rate. The requisite buzzwords seem to be promoted enthusiastically on each vendor's website – all vying for a spot at the forefront of innovation. But they share another challenge, namely balancing that drive to be leading-edge with the need to remain relevant and accessible to the organizations who aren't quite there yet. Many of the customers eying up solutions today are voice-only call centers who understand they need to digitally transform – but it can be difficult to know how to do that without an understanding of what it really means. Let's get back to basics with a few of these buzzy terms – what exactly they mean, how they are making an impact on the customer experience industry, and tips for successfully incorporating them into your CX strategy.
Omnichannel
It's important to take the term "omnichannel" with a grain of salt. Due diligence and close scrutiny are required to understand what each vendor means when bandying about this term. A channel, to be clear, means a communication vehicle that a customer/member/etc. might use when interacting with your organization. The most obvious example of a channel would be Voice, or calls placed to a call center or contact center to be answered by the next available agent, courtesy of call center software. Other channels might include Email, or Web Chat. An organization offering multiple customer channels is often referred to as having a "multichannel" contact center. So how does this differ from "omnichannel"? A true omnichannel contact center is much harder to come by and means that not only are the range of channels more extensive than the basic phone, email, and chat – but that they operate cohesively, with persistent awareness of one another, and are consistently managed and reported on not as siloed entities but rather as parts of one whole solution. In essence, customers are free to communicate by any conceivable means (text, social messaging, co-browse, video, etc.), and all the communications are managed, tracked, and measurable through the contact center right along with phone, email, and chat. Finally, true omnichannel means having the flexibility to easily add new channels as technology and customer demand evolve, along with consistent management and reports for more effective agent and customer engagement.
Contextual Data, Integrations & Analytics
Context. A dictionary will tell you that context means: "the circumstances that form the setting for an event, statement, or idea, and in terms of which it can be fully understood and assessed." In an nutshell, having contextual data means having as much information as possible about a person or interaction so that you can do several things: personalize the customer experience, tailor offers to the customer, anticipate their needs, and make the interaction more efficient, effortless, and successful. There are a number of different ways to make this happen. First, is by ensuring that you do in fact offer true omnichannel as described earlier. If a customer has already emailed about something and is now calling, you need to have awareness of that email and any other related communications by having visibility across channels and interactions through an omnichannel agent desktop. Another way is by tying together disparate systems, databases, and platforms through contact center software integration so that they work together as one cohesive tool. For example, let's consider the agent desktop integrating with the organization's CRM platform – say MS Dynamics or Salesforce. There are a number of benefits to making these systems talk to each other. Agent time is saved by eliminating extra mouse clicks, but also the information in the separate databases becomes available instead of existing separately. Data can be exchanged and leveraged between systems, meaning agents can be proactive in their communications and not only personalize the experience with knowledge about the customer interaction history and preferences, but also offer promotions etc. based on their past purchases, contract expiration dates, or other available data. Finally, with the right contact center platform, reporting can leverage data from integrated sources and tell a more complete story of customer journeys, behaviors and trends.
Self-service, Knowledge, AI & Bots
Self-service isn't new – IVRs paved the way on the phone channel and despite cumbersome call flows, it became a popular alternative for customers reluctant to spend their time waiting in queue for an agent. Now we are seeing self-service options cropping up on other channels, and the adoption rate is staggering. Organizations view this as a win-win because when done right, channel containment is achieved, operating costs are reduced, and customer experience is improved. The key here is "when done right" – unfortunately, like a poorly designed IVR, a bad self-service experience on any channel has the potential to do more harm than good. So how do you know if you've got a solid plan of attack? Let's take a look at knowledge portals. The next generation of FAQs, providing a contact center knowledge base on your company website seems like a no-brainer. Why not offer up your customers information that saves them from speaking to an agent? Well for one, you want to make sure that the information you're providing is kept up to date and relevant, so you'll need to ensure you have processes in place for doing so. Also, be selective about the type of information shared – you want to make sure that interactions that have the potential to be revenue-generating don't fizzle out and stop at your website. If you've ever used web chat while doing your online shopping, no doubt you've been helped by a Bot – and it's likely that one of those experiences has been frustrating. Without proper planning and design, Bot answers to questions can be mismatched or even incorrect. And further, escalations to agents (when the bot fails to answer correctly or receives a question too complex to handle) mean that the customer has to start all over again with their query. When done right, the customer experience with the bot and moving between bot and live person is seamless.
As with any contact center buzzword, it's important to go back to basics when evaluating them for your own contact center and remember what your objectives are. Is the path you're taking going to result in you achieving those objectives? If you've got omnichannel customer experience goals and digital transformation in mind, we can help. Upstream Works has been successfully helping organizations from all industries successfully balance innovation with profitable growth through our conversational engagement platform Upstream Works for Finesse. Contact us for a personalized demo and see how we can help you meet your customer experience management goals.