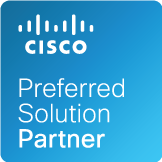 Upstream Works in the Cisco SolutionsPlus Program
Upstream Works + Cisco SolutionsPlus
Order Activation
To activate your SolutionsPlus Order please click here.
Upstream Works + Cisco SolutionsPlus
Cisco customers and partners can now enhance the Cisco contact center offering and create a complete solution with Upstream Works products in the Cisco SolutionsPlus program.
Cisco SolutionsPlus is a purchasing program for Cisco's customers, channel partners and sales teams for selected third-party products and applications.
The following Upstream Works products are now available on the Cisco SolutionsPlus Program:
Upstream Works for Finesse Productivity Pack
Upstream Works for Finesse Digital Base
Upstream Works for Finesse Omnichannel (UCCX)
Upstream Works for Finesse Application Server Base
Learn more about Upstream Works on Finesse
For more information about the Cisco SolutionsPlus program, contact us.