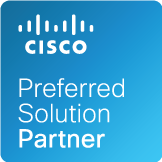 Upstream Works in the Cisco SolutionsPlus Program
Upstream Works + Cisco SolutionsPlus
Order Activation
To activate your SolutionsPlus Order please click here.
Upstream Works + Cisco SolutionsPlus
Cisco customers and partners can now enhance the Cisco contact center offering and create a complete solution with Upstream Works products in the Cisco SolutionsPlus program.
Cisco SolutionsPlus is a purchasing program for Cisco's customers, channel partners and sales teams for selected third-party products and applications.
The following Upstream Works products are now available on the Cisco SolutionsPlus Program:
Upstream Works for Finesse Productivity Pack
Upstream Works for Finesse Digital Base
Upstream Works for Finesse Omnichannel (UCCX)
Upstream Works for Finesse Application Server Base