Company
Paychex is a leading provider of integrated human capital management solutions for human resources, payroll, benefits, and insurance solutions for small and medium-sized businesses.
Key Results
Improved agent experience with an intuitive workspace for all channels
Improved efficiency with fully integrated workstreams
Data-driven innovation and next wave of growth
Personalized and rewarding customer experience
The Challenge
The challenge Paychex faced was transforming its service model at the same time as replacing their telephony communication platform. They were offering traditional payroll services through the phone, with an online service component, and wanted to evolve their offering and support customer expectations for digital options.
Our Solution
Paychex chose Upstream Works for Finesse (UWF) for its omnichannel capabilities with the flexibility to support consistent customer care across all channels including voice, fax, email, chat, SMS, and more. It was important to Paychex to have a flexible solution to support their vision for transformed customer care. They needed a solution that provided the data to meet their customer experience goals, and the information needed for continuous improvement of internal processes and client service. Specific UWF omnichannel solution capabilities included: customer channel choice, third-party integrations, bot escalations, and solution data for deeper visibility and real-time decision making.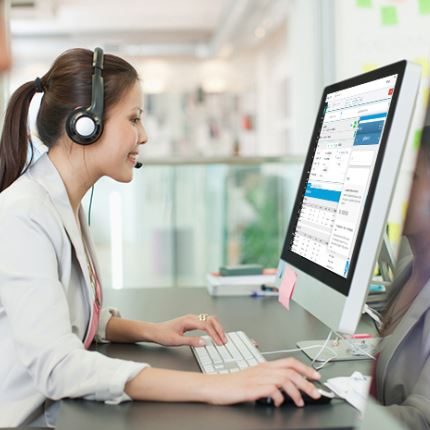 "The 'wow' factor for me was the fact that it was a consistent and intuitive user interface no matter which channel you are on. I could see how it would be easy for agents to use and that we would be able to provide great service to our clients."
– Carlos Cong,
Director, Enterprise Technology Services,
Paychex
What's Next
With thousands of UWF users today, Paychex plans to extend UWF to 100% of their service workforce. They plan to continue extending customer options and leveraging AI in new ways. "It's about getting the most out of every interaction – pinpointing relevant opportunities and maximizing the value," said Cong. "The future is a cognitive contact center that takes away mundane, repetitive manual processes that our service providers are having to do, increasing efficiencies and making the customer experience effortless and rewarding."
The Difference
When asked what is was like to work with Upstream Works as a vendor, Cong says: "What made us successful throughout this entire process was being able to work directly with the Upstream Works team. We were able to find a rhythm and work through any challenges successfully." The teams continue to work closely together to evolve their service offerings, innovate and grow, and wow their customers.
Learn more about Paychex