CX – Making it Personal in 2020 with Omnichannel Optimization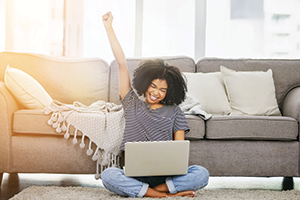 This series started with digital transformation being the overall driver of change in 2020, and from that we'll examine some sub-themes over the next few posts. Most technology decisions for contact centers are now built around customer experience – CX – but that's a broad goal that can take many forms.
One of the most powerful drivers of CX is making it feel personal, especially for today's digital customers. While many of us welcome and embrace new forms of technology, the efficiencies that come with that often result in depersonalized experiences, where customers feel isolated and unvalued. No matter how good the product or service being bought, this kind of experience can greatly undermine your brand and your relationship with that customer.
An omnichannel platform designed for modern contact centers seeks to deliver exactly the opposite outcome, and that's why it should be core to how you think about contact center technology in 2020. Customer experience transformation means having one platform for all conversational engagements, empowering your agents to provide a consistently remarkable CX.
Digital natives are poised to become your most valuable customers and being the most tech-savvy of all your customers, they are well attuned to depersonalized forms of CX. They have grown up this way their entire lives, and for this reason, personalization is very highly valued.
Coming back to the contact center, the implication is that providing personalized, responsive service will be a key driver for CX, and when they get that, customers will stay with you. The whole point is to make customer interactions seamless, efficient, and consistent regardless of which channel was used.
All of this is transparent, not just for enabling omnichannel communication, but also to support agents in real-time with the right data to provide a personalized CX. There's a lot of orchestration to deliver that outcome, and these customers would no doubt nod in approval for an experience that makes them feel unique and valued.
Clearly, there's great power in providing a personalized CX, and it's the kind of service that contact centers will need to provide in the coming decade. Consider a voice call that escalates to a co-browsing video session, where the agent is now working side-by-side and guiding the customer to address their specific problem in real time. The inquiry didn't begin that way, and when the customer sees how easily the session becomes so interactive and meets their needs, it starts to feel personal very quickly.
Another example would be enabling agents to interact on social channels for customers who prefer this to conventional channels like voice, email, or chat. Until recently, channels such as Facebook Messenger, WhatsApp or WeChat were not part of the contact center landscape, but with an omnichannel engagement model, the boundaries between contact center activities and marketing efforts are dissolving.
You certainly can't get there from here with legacy technology, and that's where having the right partner makes all the difference. Upstream Works does this especially well via its enhanced omnichannel solution for Cisco Finesse. This integration can bring CX transformation to any organization with solution flexibility, real-time engagement, historical-context data, and intelligent automation.
Upstream Works has been an early provider of omnichannel solutions that make CX personal, seamless, and effortless, with customer-context data at the core. For agents, omnichannel means being able to connect customer journeys via a single, intuitive desktop, and having seamless integration across multiple applications and CRMs. The end result is empowering your agents to have data-driven conversations and deeper engagements for better outcomes. Contact us and see how we assist organizations like yours to provide an amazing CX.