Key Contact Center Trends to Watch for in 2020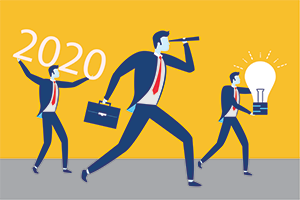 There are many technology trends impacting the contact center, and as we enter a new decade, it's only natural to think in broad terms with a longer-term time horizon. Ten years is an eternity in the world of tech, and it's staggering to consider how much the contact center has changed over the last decade. The coming decade will likely bring just as much change, and in our view, the best way to understand that is through the lens of digital transformation.
In broad terms, digital transformation is about how digital technologies give rise to new capabilities that can transform how we work and experience things. Digitization creates new forms of data that can go beyond just reducing costs or making processes more efficient. These are important, but transformation is about being better – better outcomes, better experiences, better decisions, etc.
We're still in the early stages of digital transformation in the contact center, as most systems are still legacy-based and telephony-centric. For many companies, customer service is driven by analog technologies, and while telephony remains the dominant mode of interaction, this approach falls short of today's customer expectations.
The yardstick for a good customer experience – CX – is being measured and defined by digital technologies, and the bar is being set by your customers. This is largely driven by changing demographics, where Millennials and Gen Z are well along their digital transformation journey, and they expect nothing less from the companies they buy from. Contact centers cannot afford to be laggards here, and going into this new decade, there's an urgency to accelerate their digital transformation journeys.
This post is the first in a four-part series that will touch on key trends you need to be on top of in 2020 for having a high-performing contact center. Digital transformation is the keystone for these trends, each of which will be covered in the next three posts; namely providing personalized CX, having a seamless UX across all touch points, and leveraging digital technologies for CX innovation.
With digital transformation being the starting point for this series, it's important to note that you can get on this journey regardless of what your current contact center environment is built on. What matters is getting on this journey now, otherwise you risk falling further behind customer expectations, which are increasingly being shaped by digital CX. Without a plan to move in this direction, you won't be able to address the other themes we'll be covering in this series.
The challenges will be most acute with contact center platforms that have limited ability to adapt, evolve, and scale. To stay competitive and deliver on CX transformation, organizations need omnichannel solution flexibility and automation balanced with the human touch. Unifying contact center and customer data and omnichannel insights are key to providing truly seamless, consistent service and deeper personalized engagements.
Some contact centers are now on a digital transformation path and must balance short-term and long-term strategies. To go further and faster on this path, the right partners are needed. Regardless of the deployment model used for your contact center platform, whether on-premise, cloud or hybrid, Upstream Works can support and help maximize your digital transformation journey. Contact us for a demo or to learn more about how we help organizations like yours deliver on your CX transformation goals and strategies.