Next-Gen Contact Centers: The Tech You Need to Support CX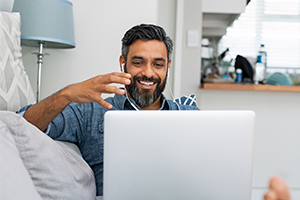 Next generation technologies for the contact center are readily available and quickly becoming core drivers of digital transformation. While many contact centers are still running on legacy, premise-based technology, the expectations of today's digital customers have surpassed what these legacy applications can provide.
Here are three essential capabilities IT decision makers should consider as part of their digital transformation with cloud and AI technologies.
Support for Digital Channels
Contact center leaders recognize the need to support omnichannel, and to some extent, legacy systems can do that. Omnichannel has been a reality for some time, and while telephony still remains a dominant mode of engaging with customers, agents have learned to use other modes to reflect changing customer preferences.
Supporting more than one channel has become vital, but it's only part of the story. Equally important would be the types of channels. Channels like telephony, email and fax can be supported by legacy contact centers fairly well. Today's technologies focus more on digital channels, not just for driving innovation, but also to support customer demands.
Some digital channels have been with us for a while – namely email and web chat – but others are emerging as technology advances, such as video, social media and messaging. This is where the adoption is growing.
A key reason for the term "digital customer experience" is the fact that customers are using digital channels to engage with agents. In terms of becoming a next-gen contact center, it won't be enough to support multiple channels – you'll have to support both voice and digital channels, and contact centers need the right tools to support that.
Personalized CX
Having the right omnichannel tools and applications to communicate with customers is essential for digital CX. With legacy technology, customer service is mostly reactive and impersonal – the agent can only respond in the moment with limited information about the customer or their history. This is a transactional model that may be efficient for your internal operations, but does not align with today's customer expectations.
Not only is digital technology pervasive now, but it's highly user-driven and enables consumers to customize their interactions and experiences. Rather than taking what is given – consumers want personalized engagements, on their terms. They want to feel valued and not anonymous. Aside from the relationship they have with your product/service, they also have a relationship with your brand, and this emotional connection is crucial for customer retention.
In our global economy, consumers have choices for everything they buy so a poor and impersonal CX will lead many to look elsewhere. Agents can provide a personalized CX by being patient and empathetic, but they also need customer data to provide knowledgeable insights specific to that customer. Next-gen technologies like AI and omnichannel tools can elevate transactional inquiries to one that is transformational in making the customer feel valued.
Frictionless Customer Service
When agents are empowered with the right omnichannel tools, interconnected with data and systems, they can handle each customer inquiry more efficiently – details don't need to be repeated, information is both relevant and accurate, and everything can be done in a unified desktop. That alone helps to reduce friction, but next-gen technology can do much more.
Across the spectrum of workflows that drive CX, there are many touch-points that could be automated or streamlined. AI-driven chatbots – both text and voice-based – can take self-service to higher levels where simple and common issues can be resolved through automation. Also consider the ability to seamlessly manage all channels – both analog and digital – so agents can handle inquiries on a single interface, and customers can engage without missing a beat when switching modes or endpoints.
The key here is to focus on the objective – reducing customer effort. This is more than just modernizing your contact center – it's about investing in the right technologies to drive the right outcomes. Delivering digital CX requires new and emerging technologies. The three essentials outlined above provide a solid starting point to bring your contact center to the next generation of CX.
---
Learn more about Upstream Works' next-gen solutions here.