Seamless Customer Experience Requires Smart Integrations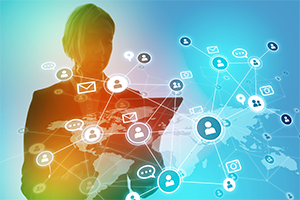 Customer experience journey management and optimization will take precedence in 2019 as organizations continue to focus on driving greater productivity and efficiency and improved customer experience. Solutions that are flexible and easy-to-leverage will enable brands to effectively transform and innovate their workspaces and digital customer experience. The key to improving agent and customer engagements is to streamline and automate processes across contact centers and business units with effective integration of systems and information.
As an organization that designs and deploys customer experience solutions for contact centers and brands worldwide, one thing we rarely see at Upstream Works is a true greenfield environment. Rather, organizations that we help usually have a number of existing tools, databases, vertical applications, and proprietary systems that they rely on in order to service customers. These same organizations are evaluating trending and emerging CX technologies and strategizing for how best to incorporate them and benefit from them.
Upstream Works takes an open approach to integration, bringing together all your channels, interactions, data, systems, and processes across the enterprise while providing the means to easily leverage all of the information in a single, intuitive workspace for managing and optimizing customer engagements across the journey. That means a better experience for your agents (who wants to juggle 30+ desktop applications?) but also for your customers, who get faster resolution, and more personalized and proactive engagement with your brand.
Let's take a look at some example integrations we can provide, and how they benefit the organizations we're working with.
Customer Engagements– AI / Bots, Co-browse and more
Upstream Works for Finesse is an omnichannel agent desktop. When we say omnichannel, we mean it. It's not just calls, email, and chat – increasingly, we are seeing a demand for SMS, social, co-browsing, self-service, AI & bots, video, and more. We also offer support for anything that a business refers to as a work item, including more traditional communications like white mail and faxes. Handling these tasks takes time out of the agent's day and therefore should be included when examining agent time allocation. They also represent aspects of the customer journey which would otherwise be lost. Bringing together all of the channels, interactions, and communications into one desktop means a seamless and complete experience for agents, customers, and management.
Application Integrations and Digital Workspace Transformation
A typical contact center uses a number of different applications in order to function. Some are to serve customers within a specific vertical, others provide agents with access to information, some help management with operations like workforce scheduling, and still others provide analytics and reports.
These applications are often best-of-breed and highly valued by the contact center, including CRM, WFM, QM, and proprietary systems. Organizations recognize the need to streamline workflows in order simplify processes and improve productivity, and they need a platform with the flexibility to seamlessly integrate all their data and applications, whether open SaaS, on-premise or cloud.
Customer Journeys, Data Integrations and Business Value
With the complexity of today's typical customer journey and the amount of associated data, a strategic approach is required to effectively manage and leverage that information. As much as it is a challenge, it also represents an incredible opportunity if handled correctly. According to Richard Joyce, Senior Analyst at Forrester, "just a 10% increase in data accessibility will result in more than $65 million additional net income for a typical Fortune 1000 company."
With this statistic in mind, it's not surprising that Upstream Works customers embrace our integration approach as it helps them quickly access and fully leverage valuable data – unlocking opportunities for targeted selling, personalized CX and revenue growth.
Upstream Works provides an integration approach that allows organizations to keep using the applications that they depend on while innovating and planning for growth. When UWF is deployed with deep and rich integrations to existing infrastructure, the result is one comprehensive, streamlined solution that increases agent efficiency, personalizes engagement, and generates greater customer loyalty.
Learn more about Upstream Works for Finesse (UWF) out-of-the-box integrations and easy-to-leverage APIs for a fully integrated agent desktop that seamlessly connects your contact center and enterprise applications, optimizing agent and customer engagements. Join our webinar and demo: Accelerate CX Innovation with Smart Integrations across the Enterprise