A Tale of One Customer's Outstanding, Effortless Customer Experience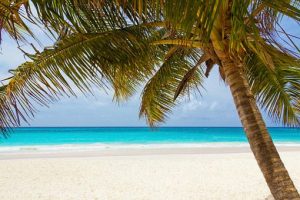 Kelly needs a vacation. She's not even aware of how badly she needs one until she sees the email in her inbox – pictures of white sand beaches, palm trees, and sunny skies. When she opens the link to have a closer look, she uses the handy self-service tools to explore packages, flights, pricing, and add-on options. She relaxes into her research, finding comfort in the knowledge that she can stop and start as she pleases, fitting in her vacation-planning around her work schedule, making dinner, shuttling kids to their extra-curriculars, and hitting the gym.
She peruses the details of a particular hotel's amenities, and is vaguely wondering how it compares to the last place she stayed. She notices the option to chat with an agent. Intrigued, she starts a conversation with a representative. Kelly is pleasantly surprised, even joyful – to be greeted by name, and surprise turns into outright amazement when the friendly agent brings up her travel history, her preferred travel dates, her budget, and the ages of her kids. The agent knows which colleague helped Kelly book her last trip, has access to their emails and phone calls, and sees her feedback on the booking experience and on the trip itself.
Kelly doesn't know how this magic is happening, nor does she care. What matters to her is saving time in her very busy day for what matters, and getting excellent, competent, personalized service with as little effort as possible.
The fact that you, dear reader, are perusing this article about "CX" would indicate that you, unlike Kelly, do care about how this outstanding customer experience is happening, so let's pull back the curtain.
The wizard making the magic is Upstream Works for Finesse – an omnichannel contact center platform that turns agents into superheroes and customers into brand advocates. Its power comes from the Single Agent Desktop – an easy to use tool that gives agents something akin to clairvoyance, and bestows "x-ray vision" onto supervisors and management. The benefits for everyone involved are as easy to understand as your ABC's:
Agents – get a single, unified tool for viewing and managing customers across all channels of communication
Businesses – get measurable, meaningful and actionable data for all agents, teams, customers, lines of business, and channels
Customers – receive a personalized, informed, rewarding experience that is consistent between departments and across all voice and digital communication channels
Let's turn our attention back to Kelly and the travel representative.
What started out as preliminary research and "what-if" on Kelly's part quickly becomes a real transaction – not through upselling or strong sales tactics, but rather by knowing the customer, truly understanding her preferences and goals, anticipating her needs, and making the experience easy. The agent can easily zero in on the right options for Kelly because all her customer information is available to the agent. Part of the magic of UWF is in its seamless integration – bringing together disparate systems through the desktop and unlocking the information contained in them. Providing agents with easy access to this valuable data results in greater agent success, improved customer experience, and better business outcomes.
Customers like Kelly have options, and they know it. These days, earning their business takes more than offering a competitive price – it requires an effortless, personalized, relevant, and outstanding customer experience.
Check out how Upstream Works for Finesse is delivering customer joy in this demo video, or contact us for a personalized walkthrough.