The Accelerated Need for Digital Transformation in 2021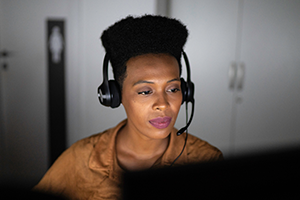 2020 brought a lot of changes to organizations and contact centers all over the world. It has forced businesses to rethink their processes, strategies, and goals. Meanwhile, customer expectations have also changed, forcing contact centers to adapt innovative technologies and prioritize digital transformation. As we look to the future, contact centers need new plans and strategies for continuing to accommodate the changes brought on by the global pandemic while looking ahead to its long-term impact.
New Drivers of CX Success
Across the board, contact centers need to level-up technological capabilities, including richer reporting, enhanced security and omnichannel functionality to engage with customers in real-time. Turning on the switch for a technology upgrade is the right start but contact center leaders need to know how to deploy them as well as why. The following success drivers are strategies contact centers need to follow to keep CX strong during COVID-19.
Supporting a distributed workforce.
Meeting the new criteria of CX.
Leverage data with a holistic approach to CX.
The Accelerated Need for Digital CX in 2021
COVID-19 has forced all businesses to reset, no matter how far their contact centers are in their digital transformation journey. With all the uncertainty, it's easy to overlook that consumers have had to reset as well. The pandemic was an unforeseen event and, while very disruptive, there is also an opportunity for contact centers to adapt.
We're now in a highly fluid economy where long-term planning is difficult and stability is measured in weeks, not months. Our expectations about every facet of life have changed and, with so much uncertainty, consumers have never needed good customer experiences as much as now. To help contact centers provide that, here are three ways to rethink digital CX.
Make it easy to do business online.
Provide enhanced self-service options.
Provide proactive customer engagements.
Embracing Contact Center AI in 2021
Contact centers of all sizes will have to continue to adapt to the new normal throughout 2021. Prioritizing customer experience is vital for organizations in any industry. Contact centers need to look beyond legacy technologies to digital technologies that can contend with the unknowns COVID-19 brings. Artificial Intelligence (AI) plays a key role in this scenario. According to a recent MIT Technology Review Insights survey, the contact center has been the leading user of AI across all organizational departments over the last two years. Along every step of the customer journey, there are opportunities for AI to add value.
Use cases for AI in the contact center will be easier to identify when key drivers are understood. This is especially important because AI is a broad term and can easily be viewed as a catch-all. Here are three key drivers for AI in the contact center to help build a business case.
Automation
Cost Savings
Innovation
---
Learn more about how contact centers can adapt to the accelerated need for digital CX by downloading this Strategic Insight Report.