3 Technologies Contact Centers Need in 2021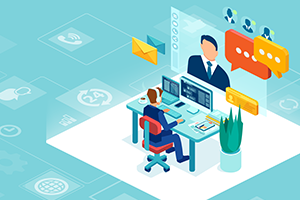 As 2021 unfolds, the stakes have never been higher for contact center leaders to invest in the right technologies. Many contact centers still struggle with the limitations of legacy technology and the disruption from COVID-19 has intensified the urgency to modernize. When it comes to strategizing which technologies to adopt, there are many layers to consider. As a starting point for these decisions, here are three technologies your contact center needs in 2021.
Contact Center Technology #1: Omnichannel Agent Desktop
Contact centers have been moving towards omnichannel for years, and they will get closer as cloud becomes more widely-adopted during the pandemic. The main benefit is for agents to communicate in real time across whatever channels the customer prefers without compromising their ability to provide great service. This technology allows agents to have full visibility to the customer journey and context-data in a centralized desktop where they don't need to switch applications or interfaces during a session.
To provide a good CX in 2021, contact centers must move beyond the telephony-centric legacy model to enable agents with omnichannel tools from a single agent desktop. This capability is just part of the omnichannel story, as agents must also resolve customer issues in real-time while being able to communicate using the customer's channel of choice. Without omnichannel, agents have limited access to critical information, real-time and historical, from across the organization. In many ways, an omnichannel agent desktop could be your most important contact center technology investment in 2021.
Contact Center Technology #2: Integrated Knowledge Management
As contact centers migrate to the cloud, technology investments will likely be tied to digital transformation initiatives that span the entire organization. Digitization will help streamline processes and workflows, but it will also create new forms of knowledge as analog information sources become digital. The challenge arises when they onstream too quickly and at too large a scale for the business to manage. The right tools are needed to convert this information to knowledge and make it shareable with users across the organization.
This is especially important for agents as the knowledge needed to provide great CX often resides outside the contact center. CRM databases are vital but far from comprehensive. For deep customer engagements that personalize every interaction, agents must be able to access knowledge from across the organization. These knowledge repositories are growing quickly – this is where AI-driven knowledge platforms can provide agents with specific contextual knowledge and guidance. When agents can do this, CX becomes effortless with better outcomes that build both trust and loyalty.
Contact Center Technology #3: Intelligent Reports and Analytics
Conventional contact center reporting focuses on efficiency, both for agents and overall operations. These metrics remain valid in 2021 but as businesses become more customer-centric, they don't reflect CX very well. Businesses now have many customer touchpoints and reporting tools must capture them all to get a 360 view. Not only must those various touchpoints be measured but the vast amounts of data around these touchpoints need to be analyzed in ways that identify root causes of problems or the best agent responses to drive a positive outcome for any given situation. It is also important for contact centers to have access to real-time and historical performance metrics and Key Performance Indicators (KPIs) like First Contact Resolution (FCR), Agent Solve Rates and Customer Effort Score (CES).
AI-driven analytics tools can provide CX leaders, management and supervisors with better reporting capabilities to assess individual agent performance as well as overall contact center operations. FCR is a universal metric for contact centers and provides a great starting point when analyzing contact center data. When we go deeper on reports and analytics, contact center leaders are given the data they need to make better business decisions while finding new opportunities for improvement.
Actionable intelligence on contact center performance and customer experience offers contact center leaders the opportunity to optimize operations. Advanced real-time and historical reports and insights enable organizations to improve agent productivity, First Contact Resolution and customer satisfaction.
---
For more information about Upstream Works' innovative technologies, click here.