4 Ways to Bring a Human Touch to Contact Center CX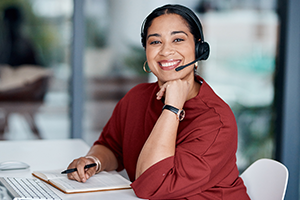 The difference between good and excellent contact center CX is providing customers with a human touch. As digital channels and AI become more prevalent in contact centers, customers are looking for more in their experiences with human agents, something they can't receive from bots and self-service channels — a sense of humanity, empathy and having their feelings and frustrations validated. This becomes especially important during times of crisis. Agents need to be more than the bots customers interact with, and customers want their interactions with organizations to feel as though they matter to their agent and the company as a whole.
Focus on the Human Side of Business
Providing humanized customer experiences starts at the top of the organization. To be a truly customer and human-centered business, care for both employees and customers should be part of your business model.
"By putting people at the center of your business model, you unleash the power of humanity and generate unimaginable positive ripples for your employees and your customers," Fortune 200 HR executive and author, Louis Efron, writes for Forbes. "Technologically assisted or not, meaningful human connections remain the key to accelerated business success."
The key to excellent contact center CX is to create meaningful human connections between the business and its employees. One way to achieve this is by showing employees that both their professional and personal lives matter to the company they work for. This will help to keep agents engaged and empower them to represent the human-focused business model in every interaction with customers. And, it's this human connection that will drive customer loyalty.
Hire Emotionally Intelligent Agents
Contact center agents should have the ability to recognize the emotions customers are feeling, whether they are interacting on a video call, voice call or chat channel. But to provide excellent contact center CX, agents need to be able to display and practice Emotional Intelligence (EQ).
Every single customer interaction should be treated unique to that customer and their situation. This is where having customer data and full visibility into the customer journey becomes imperative – it equips agents with knowledge that allows them to practice empathy right off the bat, not after a customer has had to repeat their frustrations and reasons for contacting the brand. From the very beginning of the interaction, agents can show customers a sense of understanding and compassion while acknowledging how the customer might be feeling in that moment. Empowering agents to do so with the right data and information can make all the difference in increasing customer loyalty.
The truly emotionally intelligent contact center agents are the ones that can identify and regulate emotions, including regulating their own emotions during interactions to keep their focus on the customer. Combined with customer data, agents with a high EQ will be equipped to provide a truly empathy-driven customer experience.
Utilize Video Calls and Co-Browse
Video calls and Co-browse care are a surefire way to ensure customer interactions are given a human touch.
A lot can get lost in translation during voice and chat interactions for both customers and agents, including tones and expressions. With video calls, not only will agents be able to have face-to-face conversations with their customers, it will also help them read facial expressions and body language. Video calls give agents the opportunity to show customers their empathy and care with their own facial expressions and body language. This allows agents to make an emotional connection with their customers, allowing them to build trust, mutual understanding and, ultimately, customer loyalty.
Co-browse offers agents an easy and simple way to provide customers hand-on service, all while remaining remote. The shared browsing experience allows for personalized guidance, so agents can lead customers to the information, tools or forms they are looking for. This helps to mimic real-life customer service remotely, adding a layer of humanized care to the interaction.
Practice Empathy Statements
Providing excellent contact center CX means showing customers that their thoughts and feelings matter to the organization they are interacting with. To do this successfully, agents can use language that displays their empathy while validating the customer's feelings and showing them a sense of understanding. Acknowledge those feelings, whether good to bad, to make the customer feel heard and appreciated by the agent and the company.
Here are a few examples of empathy statements:
I understand how you're feeling
Thank you for your patience
I'm sorry you are experiencing this issue
You're right
I appreciate your time
Learn more about how Upstream Works for Finesse (UWF) empowers agents to offer humanized and empathetic contact center CX here.