How Omnichannel Contact Centers Can Maintain Business Continuity During a Pandemic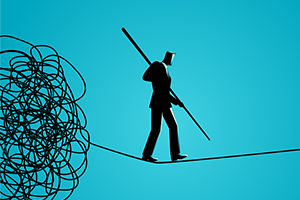 Every aspect of every business has been forced to adapt to COVID-19. While that alone could easily consume all your energy, the impact on your customers must be managed as well. With so much of business shifting to virtual spaces, the contact center has taken on a new kind of prominence that no one could have anticipated.
These changes have also happened abruptly. Everyone is learning on the fly – businesses, customers and vendors. This post is the first in a three-part series examining key issues to help omnichannel contact centers respond effectively during the pandemic. Our series begins with the most fundamental need – maintaining business continuity.
The Contact Center as an Essential Service
The rules of engagement are constantly changing, and for many, the contact center is the safest route to get clear answers. Even the most basic information comes into question now, such as hours of operation and acceptable payment methods.
The biggest necessity for any form of commercial activity in this climate is for a safe, contactless experience. Price has become a secondary concern as buying decisions are being driven by availability – when you can either secure contactless delivery or curbside pickup. As such, the value drivers for customer experience (CX) have changed.
With many businesses looking for ways to stand out and generate revenue, the contact center has taken on a more fundamental role as business models change and adapt in these difficult times.
What Customers Really Want
Until things return to normal (if they do at all), CX standards will require a shift as many contact centers are now providing a different type of service.
The mark of great CX is reducing customer effort and delivering a frictionless and personalized experience that results in quick and successful resolutions. The circumstances around COVID-19 measures make it critical to ensure contact center operations are running smoothly so that businesses can meet changing customer demands.
Many omnichannel contact centers are also seeing a rise in call and interaction volumes. While many businesses have scaled back, others are surviving by operating virtually. During this transition to a new way of doing business, contact centers play a key role in supporting business continuity. By incorporating flexible solutions, contact centers can better optimize CX and provide smart resolutions as quickly as possible. Further empower agents to create a great experience and confidently ease any stress customers might be feeling by providing them with insight into the full customer journey.
How Omnichannel Contact Centers Can Adapt
Given that even our most routine needs for goods and services are being met differently now, contact centers can easily be overwhelmed with functional inquiries that have little to do with CX. With so many agents working from home, productivity and collaboration tools are needed to empower agents so you can make the best use of resources.
Ensure your FAQs and self-service options are up to date so fewer calls get routed to agents. Another consideration is the use of proactive notifications to keep customers updated in this fluid environment. As the economy begins to reopen, we see changes being made at local or regional levels – this is a prime opportunity to update customers on a localized basis. Not only does this provide useful and timely information, but it's an easy form of personalization that can make customers feel a little less isolated.
When agents do need to engage with customers, they should relax their business-as-usual posture. With social isolation being the norm now, human contact of any kind will be welcome for many. Practicing empathy with a personal touch from agents can go a long way in keeping customers happy and will result in the best support for business continuity.
Stay tuned for parts two and three in this series, where we will explore best practices for supporting agents working from home and how to provide great CX while operating remotely.
Upstream Works provides enhanced agent productivity and collaboration tools to help your contact center through COVID-19 and maintain high-level customer experience while maximizing your remote workforce. Learn more about how we can help optimize your work-from-home agents' productivity.