Upstream Works Software Ranks as one of Canada's Fastest-Growing Companies on the 2017 PROFIT 500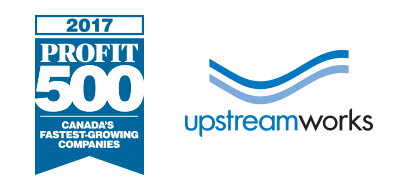 Canadian Business unveils 29th annual list of Canada's Fastest-Growing Companies
Vaughan, Ontario, September 14, 2017 – Canadian Business and PROFIT today ranked Upstream Works Software No.204 on the 29th annual PROFIT 500, the definitive ranking of Canada's Fastest-Growing Companies. Published in the October issue of Maclean's magazine and at CanadianBusiness.com, the PROFIT 500 ranks Canadian businesses by their five-year revenue growth.
Upstream Works made the 2017 PROFIT 500 list with five-year revenue growth of 315%.
"It is never easy to earn a spot on the PROFIT 500, but this year's applicant pool was the most competitive yet," says Deborah Aarts, PROFIT 500 program manager. "This year's winners demonstrate the resilience, innovation, and sheer management smarts it takes to build a thriving business today. Canada – and the world – needs more entrepreneurial success stories like these."
"Upstream Works is honoured to be on the PROFIT 500 ranking," says President and CEO Rob McDougall. "We're excited about the growth our team has generated. This achievement speaks to the strength of our solutions, our commitment to innovation and the steadfast dedication of our team."
Upstream Works has a strong history of omnichannel innovation specializing in improving agent and customer engagements. Upstream Works for Finesse helps organizations to improve the agent and customer experience, while improving operational efficiencies with a Single Agent Desktop connecting all channels, interactions and applications across the enterprise. Businesses gain flexibility and control with easy to use tools, full visibility, and consistent reporting across voice and all digital channels.
About Upstream Works Software, Ltd.  www.upstreamworks.com
Upstream Works provides best-in-class Omnichannel Contact Center software to increase agent success and customer engagement. We bring the customer journey together across all channels, interactions and applications with management simplicity and desktop elegance. For over 15 years, organizations around the world and across industries have benefited from Upstream Works' experience and expertise, gaining operational efficiency and transforming the connected customer experience.
See UWF in action at www.upstreamworks.com or request a personal demo at demorequest@upstreamworks.com
About the PROFIT 500
For 29 years, the PROFIT 500 has been Canada's most respectable and influential ranking of entrepreneurial achievement. Developed by PROFIT and now published in Maclean's magazine and at CanadianBusiness.com, the PROFIT 500 ranks Canadian companies on five-year revenue growth. For more information on the ranking visit PROFIT500.com or CanadianBusiness.com.
#
For more information, contact:
Janice Keay, VP, Marketing, Upstream Works Software, Ltd.
905.660.0969 x397, jkeay@upstreamworks.com