Upstream Works Announced as Winner of the 2017 Tech Culture Award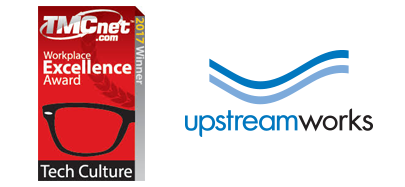 Celebrating the Best Places to Work in Technology
Vaughan, ON October 26, 2017 – Upstream Works Software Ltd., a provider of Omnichannel Contact Center solutions, announced today that TMC, a global, integrated media company, named Upstream Works as a 2017 Tech Culture Award winner.
The TMCnet Tech Culture Award recognizes the best-of-the-best work cultures within the technology sector and identifies organizations with unique programs, benefits and opportunities for current and prospective team members that drives satisfaction and success.
"Companies are made up of people and we've been fortunate to develop a great team. We're proud to offer an environment that is exciting, collaborative, and supportive of every individual's efforts and achievements." said Rob McDougall, President and CEO, Upstream Works.
"Congratulations to the winners of the 2017 Tech Culture Award," said Rich Tehrani, CEO, TMC "We are proud to acknowledge the leaders who understand the importance of culture in the tech industry and look forward to seeing what the future has in store for these revolutionary companies."
Upstream Works provides a flexible workplace and encourages innovation in an agile work environment. Training programs, comprehensive benefits, employee stock ownership plan, employee-run committees, hackathons, and family-friendly social events all provide opportunities for growth, skill development, work-life balance.
About Upstream Works
Upstream Works provides best-in-class Omnichannel Contact Center software with a Single Agent Desktop and management simplicity that seamlessly integrates all channels, interactions and applications for increased customer engagement and agent success. For over 15 years, organizations around the world and across industries have benefited from Upstream Works' experience and expertise, gaining operational efficiencies and transforming the customer experience.
See UWF in action: upstreamworks.com
About TMC
TMC is a global, integrated media company that supports clients' goals by building communities in print, online, and face to face. TMC publishes multiple magazines including Cloud Computing, IoT Evolution, Customer, and Internet Telephony. TMCnet is the leading source of news and articles for the communications and technology industries, and is read by 1.5 million unique visitors monthly. TMC produces a variety of trade events, including ITEXPO, the world's leading business technology event, as well as industry events. For more information about TMC, visit www.tmcnet.com.
#
For more information, contact:
Janice Keay, VP, Marketing, Upstream Works Software, Ltd.
905.660.0969 x397, jkeay@upstreamworks.com