2 Key Technologies Contact Centers Need for WFH Agents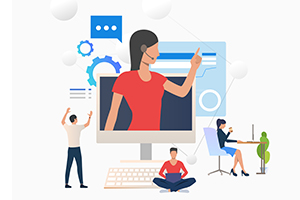 This is Part 3 in our 3-Part series about how contact centers can adapt and thrive during a global pandemic. See Part 1 and Part 2.
As the pandemic wears on, contact centers face challenges on two different but highly related fronts. The need to provide great CX hasn't changed, but the environment has changed for both agents and customers. The CX environment has shifted and, in many cases, has been re-invented as a touchless experience. For agents, that means working from home. That might look different for each agent, but the need to deliver an excellent customer experience remains the same. Here are two key technologies contact centers need for work-from-home agents to thrive during the global pandemic.
Technology #1: Omnichannel Contact Center Solutions
Legacy systems in contact centers might be able to provide passable or even good CX, but they aren't able to provide great CX. For some agents, working from home might make it harder to provide a great customer experience since they can no longer confer with fellow agents and supervisors in-person. While supervisors are available, many are spread thin as they try to remotely monitor an entire team of agents. Therefore, the right technology is so important.
In today's modern world, omnichannel capabilities are necessary to move your CX from good to great with customers looking for convenience through digital channels.
The starting point for that digital experience is engaging with customers using their channels of choice. Agents must be able to seamlessly switch between channels in a single interaction while having full visibility into the customer journey. With an omnichannel solution, agents are able to have a continuous interaction while seamlessly switching between multiple channels without needing to switch applications. With this technology, agents are empowered to have deeper customer engagements, which can make all the difference during these trying times.
Omnichannel contact center solutions help to remove communication friction, which can lead to higher stress levels, emotional moments and unhappy customers. When agents can easily communicate with customers in a variety of ways, like Co-browse or Video Engage, the engagement becomes more human – and that can make all the difference amid lockdowns, isolation and quarantines.
Technology #2: AI and Analytics
The promise of AI has been building for some time and is becoming a critical capability of contact centers, alongside data and analytics. These applications can take many forms and can be especially valuable during the current business climate.
Even though many people have cut back on spending, and the global economy remains in various phases of lockdown with some places going back to business as usual while others remain in lockdown. As such, call volumes to contact centers are up. Many of these call spikes are due to inquiries from customers about how they can continue doing business with your organization. But many contact center interactions are for reasons that could not have been anticipated before the pandemic and, in many cases, agents aren't prepared for these inquiries.
This is where data and analytics play a key role – to identify patterns and better determine the reasons behind customer engagements.
Some routine inquiries, like hours of operations, making appointments and processing payments, can be handled by AI. Machine learning can flag these inquiries and route them to chatbots and other intelligent self-service options. This becomes a huge help to agents, who can avoid feeling overwhelmed by increased contact volumes and spend their valuable time dealing with more complex issues and resolutions.
Other AI capabilities like sentiment analytics can flag incoming interactions from customers that appear anxious or stressed. By flagging these interactions, these specific customers can be prioritized. A simple callback from an agent can make all the difference in their experience with your organization.
It will become harder to predict what customers are inquiring about as the status of the pandemic changes. As the economy opens and lockdown restrictions tighten and loosen, the information customers need will change. AI-based analytics can adapt on the fly as the algorithm learns which inquiries to route to agents, bots or other self-service options.
Technology like AI, detailed analytics and omnichannel capabilities ensure agents can provide excellent CX on any channel, no matter if they are working from home or in an office alongside their peers. Giving customers digital channel options while helping agents navigate high call volumes with self-service options will ensure your contact center can adapt and thrive – even in a global pandemic.
Learn more about Upstream Works Omnichannel solutions here.