3 Ways Contact Centers Can Manage the Transition to Home-Based Agents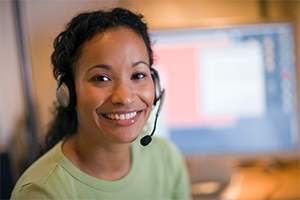 This is the second article in a three-part series about how COVID-19 is impacting contact centers and how they can adapt to this new normal.
In the first part of our three-part series, we addressed the important role the contact center plays in business continuity during this global pandemic. The challenges faced by all businesses to maintain operations in this environment are unprecedented, but there are other challenges to consider as well.
The idea of having home-based agents is not new for contact centers. What is new is having to suddenly pivot from having agents in centralized locations to operating remotely. Whether your entire team of agents and supervisors is now working from home or a portion of your staff are telecommuting, the transition is significant – and nobody was prepared for the change. Collaboration, engagement and AI-driven automation will help organizations adapt.
What We've Learned So Far
As we enter the fourth month of the new normal, work from home (WFH) patterns have been established. Contact centers have had enough time to determine how well agents have adapted and how well their communication technologies are supporting them.
Prior to COVID-19, home-based agents were more of an exception – it wasn't considered the norm for agents to work from home. In terms of technology adoption, the main takeaway is that agents can work from home effectively, and having the right tools has a lot to do with it. By using an omnichannel platform, contact centers can extend immersive capabilities like Co-browse and Video Engage to home-based agents – making the physical location less of a factor.
Some agents may struggle while working in a tight space or from a busy home environment, but others find they can be more productive. Agents working from home may have a quieter environment with no colleagues working in nearby cubicles, making it easier to focus on customers. When you factor in long and stressful commutes and other in-office distractions, a WFH environment is preferred by many workers in and out of the contact center.  Telecommuting also gives agents the flexibility to factor in lifestyle needs and the ability to take on shifts at short notice.
3 Key Considerations for WFH Contact Center Agents
Telecommuting seems like a great scenario for many contact centers. Since many businesses are looking to make remote work more permanent, contact center decision-makers must consider the best ways to support this model on a long-term basis. Given the nature of contact center operations, working from home isn't a simple matter of agents shifting from one desk setting to another. There are a multitude of implications – here are three high-level considerations contact centers should take into account.
Remote Management and Support for Agents
While working from home, many agents find they can be more productive with less distractions around them. However, there are times when all agents need help from supervisors – by request or otherwise.
As WFH agents become more dispersed, the need for an omnichannel platform with real-time visibility into agent activity becomes more vital. Agents need to feel supported into order to be fully engaged and provide the best CX possible. Effective guidance and collaboration tools allow agents and supervisors to easily communicate with their teams, request help or conduct consultations – all while being fully remote.
Maintaining Security
Unless you're prepared to retrofit all WFH agents with a standardized set of devices, endpoints and applications, you'll have to work with what they're already using. This raises concerns about agents having business-grade audio and video quality for customer-facing communication. But, an even bigger issue for IT is to maintain security, both for the network and customer data.
Agents may not be security-aware when working remotely. So, steps must be taken to have adequate virus and malware protection, and for IT to have visibility into all virtual connections. Not only does IT need to be able to detect breaches that could arise from any of these agents, but also proactively lock down access points to prevent breaches from spreading.
Planning Ahead
Despite business activity being heavily curtailed by COVID-19, many contact centers are busier than ever as they help customers adapt to contactless customer service. As the economy opens, those inquiries will only increase, and capacity will have to expand. Some centers will choose to simply add more agents. And, if WFH persists, contact centers will have to scale operations based on this new model. Not only will they need to hire agents who can perform well from home, but the contact center will need enhanced CX engagement capabilities to increase efficiency and improve engagements.
Many businesses are not able to quickly hire more agents to handle growing call volumes. Instead, they can make better use of AI and further automate self-service. As conditions continue to change, customers need ongoing updates about hours of operations, social distancing protocols, purchase limits, payment methods, and other routine inquiries. Now is the time to revisit your customer experience strategy and the role that AI can play to help improve engagements and business outcomes.
Stay tuned for the third and final part of this series as we continue to explore how contact centers can thrive during these unprecedented times.
Upstream Works for Finesse (UWF) offers adaptive solutions that help agents and supervisors collaborate and access vital information, while providing customers with personalized service – all while working from home. Learn more about how UWF helps contact centers maintain high-level CX and optimize remote agents.